If apartments for sale at the moment aren't suitable, simply register your interest below and we'll tell you when new apartments become available. Easy!
With a great location, strong rental returns and professional on-site management, Sphere Gold Coast presents a solid investment opportunity.
Selling Now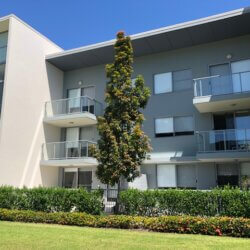 Under Offer
Number of Bedrooms 2 Number of Bathrooms 2 Number of Carports 2 No
Lovely spacious two bedroom ground floor apartment with tiled open plan living-kitchen-dining area.
Register Your Interest
If you are interested in buying a unit at Sphere Gold Coast and would like to be the first to know when apartments become available to buy, simply fill in the form below and you're on our list!
Terms & Conditions
I understand that by registering my interest I consent Sphere Management Services, contacting me using the numbers and other information I have provided, for an indefinite period.
I understand that Sphere Management Services will use this information to provide me with offers issued by Sphere Management Services and otherwise keep the information I have provided in accordance with Sphere Management Services' Privacy Policy .
I understand that when I no longer wish to allow the Sphere management Services to use that information to contact me, I must expressly inform Sphere Management Services that I no longer wish to receive communications from them.